Travelling down the N1 towards the Vaal River on a Friday afternoon is becoming a habit. But it's one of those habits that gives you a warm and fuzzy feeling just thinking about it. And as soon as we pass the N12 the excitement starts to build because from there it's all open road to our fishing destination. This time it was Flamingo's River Lodge.
Fishing
Getting there was easy, from the main road to Parys it's a short semi-dirt road to the gate, passing a few other places we've heard of (Oppipaal, Constantiarus). And as usual arrival, getting keys, unpacking, setting up etc. happens in a blur. All that matters is getting those lines in the water asap.
However we soon realised that things were not going to go our way this time. Despite the fact that we had beautiful weather, that the river wasn't flowing fast at all, and that we could see fish jumping everywhere, we didn't get a single bite. Extremely depressing. At least the spectacular view and sunset made up for it.
The next day, and after another unsuccessful morning session (fish jumping everywhere, zero bites), we headed to Parys to go and seek some advice. On the main street we found a surprisingly well-stocked shop called the River Bottom (opposite Hoi Polloi). We topped up our supplies, got some advice (very sweet + very strong combined) (duh) and headed back to the river with renewed confidence. Also on the way we got some chicken livers for barbel and a brown bread for luck.
But still nothing. Eventually we started catching some small barbel on the chicken livers, and one mudfish got itself caught somehow. But everything else eluded us. They were there (still jumping), just not hungry.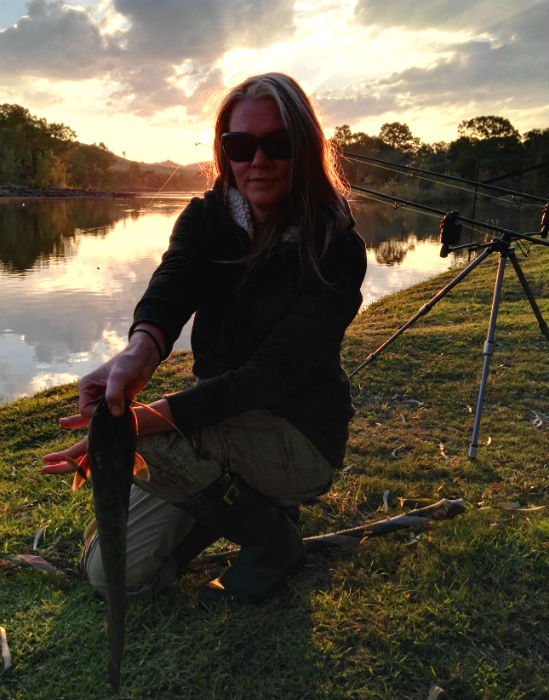 On our final day things finally started to turn. What was the difference? Brown bread. With a healthy coating of vanilla essence. Martin mentioned this is what he used as a kid, so we tried it and it actually worked. Yellowfish especially seem to enjoy it but we also caught a few mudfish on it. Maybe it was the ultra-sweet vanilla or maybe the air pressure changed but the point is they loved it (and at a fraction of the cost of floaties…).
After that it was business as usual, we started catching on other forms of bait too. But surprisingly we caught zero carp, not one, and we would end the weekend like that. I still have to figure out why they have no interest in food even though they are jumping around. If anyone has any info on this phenomenon it would be greatly appreciated.
As for barbel that also came to an end when we realised one of the two containers of chicken livers we bought was peri-peri flavoured. We tried this after the plain chicken livers was done but had zero success, the barbel definitely preferred the plain ones.
Accommodation
Flamingo's River Lodge is another little fishing gem on the Vaal River. The house itself consists of a small kitchen \ dining area flanked on either side by two bedrooms. The kitchen has everything you need and outside there is a mobile braai. Each bedroom has it's own en-suite bathroom and is great for two couples or a family.
From the house there are steps down to the lawn which borders the water. You have at least 30m of exclusive waterfront to use, so you can really spread out if you need to. At night there is a light which illuminates the steps all the way down.
Most of the Vaal River is actually quite beautiful and this setting was no different. What was unique though is the rocky cliff on the opposite side, as opposed to the forests we're used to. We could actually spot dassies scampering around which was fun. And at this time of year the sun actually set right down the middle of the river which made taking breathtaking photos very easy, even for us 🙂
Summary
Another great Vaal River fishing venue especially if you like private wide open spaces. The fishing wasn't as spectacular as we're used to at the Vaal but we can't blame the location, we blame winter and our lack of knowledge.
Very, very sweet (caramel, honey) flavoured floaties. Mielies were less successful. Also try brown bread with some sweet dips, it actually works! For barbel chicken livers (as always) worked well, but not peri-peri 🙂
(2 days)
barbel x6 (small)
yellowfish x4 (small)
mudfish x6 (medium)