Latest update: 2023-10-01
– new tariffs for 2023
Quick Info
—————————————————————
Rietvlei dam – our happy place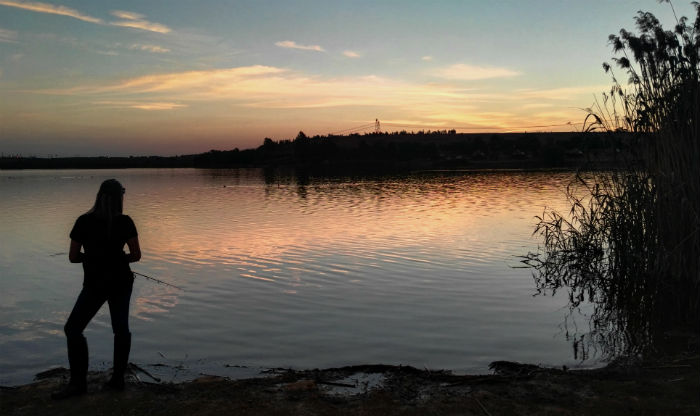 I caught my very first fish here by accident while I was practising casting my fly-fishing rod. Out of nowhere a nice-sized bass took my woolly bugger and just like that the bass and I was hooked. He was hooked for about 3 minutes, but I've been hooked ever since. 5 years later and Rietvlei Dam still and will always have a special place in my heart.
Since that day we've probably visited Rietvlei close to 250 times. It's so close to us that we got ourselves season passes, and during early spring (spawn) we try to go 3 or 4 times a week. It's a wonderful place, a hidden gem, and very rewarding if you know what to do.
On this page, we'll share (and continually update) our accumulated knowledge of Rietvlei Dam, our second happy place.
Fishing
Accommodation
General
FISHING
Rietvlei Dam has a deserved reputation for being very tough. Especially for carp. We've blanked many many times but even though this was frustrating at times it turned out to be a blessing in disguise. It made much better anglers of us by forcing us to try all kinds of different strategies. Here's what we've learned so far.
1. Bass
Bass fishing at Rietvlei Dam can be mind-blowing one day and dead the next. No one can tell us why. We looked at the weather conditions, water temp, air pressure, full moon etc., but nothing has explained this to us. We just take a chance each time, drive out there and hope for the best. But we are rewarded more often than not. Here's a couple of bass caught over the years.
My previous pb (and Martin's current pb) were both caught at Rietvlei in the last couple of years. Here's my 3.2kg I caught way back in 2015.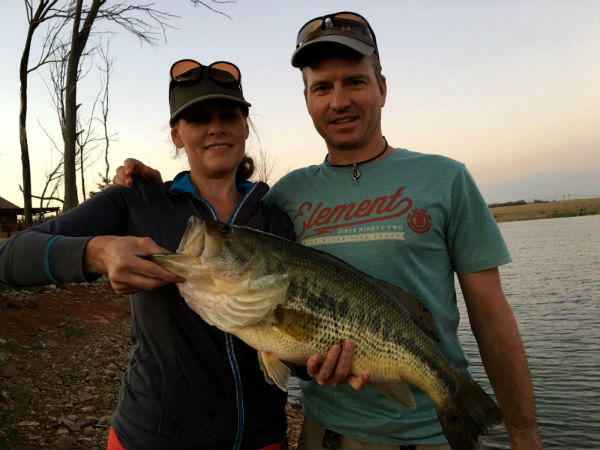 As always every single fish was safely and quickly released.
Bait \ Lures
As stated before we've used almost everything at Rietvlei Dam with mixed results. Starting from the most successful, here's a list of our favourite lures to use:
Flukes – Our goto lure in most situations and once again deadly at Rietvlei, especially junior flukes. Most colours work but by far the most successful is junebug. In fact, any very dark colour with some kind of flash like a black fluke with silver glitter works well.
Worms – Senkos, trick worms etc. also work well, again junebug is popular but we've had a lot of success with watermelon red too.
Other plastics – From grubs, craws, to brush hogs we've had a lot of luck with all plastics. Twintail grubs especially is another favourite when imitating frogs.
Cranks – Using cranks isn't always possible because of the grass that covers most areas but there are rocky areas where using a crank is very productive. In fact, my monster bass above was caught on a lipless crank (bass pattern).
Jerkbaits – We don't always use jerkbaits (the grass factor again) but we've seen many other anglers do well when fishing these fairly fast when the water is clear.
Spinnerbaits – White and chartreuse spinner baits work well especially when the water is slightly murky.
Less productive – Other baits have proven to be less successful for us, these include jigs, frogs etc. Also, we've had almost zero success with topwater baits.
Strategies
We always fish very very slowly at Rietvlei. Cast your fluke or worm out there, let it drop, wait for it to settle and then slowly retrieve, twitching it every now and then. We've caught probably 90% of our fish this way and it's actually super exciting. Seeing your line suddenly rise violently is exhilarating.
For cranks obviously make sure they hit the bottom rocks, and for jerkbaits a faster retrieval seems to work.
Spots
General – We've caught most of our bass next to the reeds. Almost every spot at Rietvlei has some form of reed wall bordering it and retrieving along those reeds can be very lucrative. Wading makes this even better because you can reach the front of the reeds where you'll have a better chance of a bigger fish.
Camping area – In terms of actual spots we've had a lot of success near the island (where the road ends). Anywhere in that vicinity is productive. From there another hotspot is the open rocky spot where the road comes very close to the water. Lots of fish here. Then, of course, the "sloep" (start of fishing area), is also very popular.

Chalet area – This is only accessible if you are actually staying at one of the chalets. Here the water is a lot deeper, especially in front of the first couple of chalets. We've stayed there a few times and have had some spectacular success including my previous pb (above).
Hippo warning! – We have been met by hippos over the years that come around the corner from the end of the fishing area. They graze among the grass every year during spring and have become more and more frequent. So just be vigilant when wading, there hasn't been any serious incidents but as we all know they are grumpy animals…
Update: A young hippo was killed in Apr 2022 after somehow escaping the reserve and then being hit by a taxi on the road just outside of the reserve. We're not sure if it's the same one but we'll know soon when bass fishing season starts again. RIP little big one 🙁
2. Carp
It's a well-known fact that carp fishing at Rietvlei Dam is extremely tough. No one can dispute that. At the same time, it is a favourite among specimen anglers because if you do manage to hook a carp there is a very good chance it's going to be your new pb. The carp at Rietvlei are massive and if you have the equipment (and patience) you will be rewarded handsomely.
Because of this we very seldom target carp there. On the few occasions, we did try we managed 2 in total, but we were fishing conventionally (papgooi) and Martin struggles to cast further than 100m 🙂 Nevertheless here is one of the catches, a nice 5kg Rietvlei "baby".
Bait
Conventional – Floaties work well and popular flavours are banana, pink sweets, pineapple, peach and perdeby. Any fruity flavours for that matter. Add earthworms to the mix if you're not getting any action.
Specimen – Tigernuts always do well and pineapple is an especially effective flavour. For boilies, any fruity flavours, like cherry, should work, also stronger flavours like fishy.
Strategies
Time of day – In general the carp at Rietvlei Dam seem to be more active at night, and very early morning. That's when most fish are caught.
Distance – This is a hot topic since most locals will tell you to always go very deep, over 150m (hence all the baitboats). But we've been hearing of nice fish being caught much shallower. It all depends on the spot. As a rule, though try to fish at around 100m and you'll give yourself a good chance.
Spots
Camping area – The carp seem to also like the same spots as the bass. So again people have a lot of success near the island (where the road ends). Anywhere in that vicinity is productive but you'll need to get your lines in over 100m. The open rocky spot, where the road comes very close to the water, is also useful. Again you'll probably need to cast quite deep. Then of course the "sloep" (start of fishing area), is also very popular, depth less of a problem.
Chalet area – This is only accessible if you are actually staying at one of the chalets. The water gets much deeper much quicker, especially in front of the first couple of chalets. There is a large willow tree in that area and either side of that is productive.
3. OTHER
We mainly target bass and carp at Rietvlei Dam but here are some other species that may or may not be available.
Barbel
There are some monster barbel in Rietvlei. We always see them playing, especially on the chalets side where there are many rocky areas. We tried for barbel once using crab and when the rod eventually ran we had no chance of stopping it. It simply broke the line when we attempted to stop the run. Earthworms, platannas will always get you a few bites. And crab, which can sometimes be caught along the shoreline, is another barbel favourite. Friends tried the popping method once with zero success.
Kurper \ Tilapia \ Bream
There are kurper in Rietvlei and we know people catch them using earthworms. But we've never seen any, not one, ever. If anyone reading this can give us some advice on how to target them that would be really helpful. But we can't confirm that they are out there.
Yellowfish
Because we've never seen one at Rietvlei we really doubted that they still exist there. But recently there's been quite a few caught by carp anglers. So they are still very much active in the dam and we'll be targeting them the next chance we get. As evidence here's Rikus van Vuuren showing off his 3.7kg yellowfish he caught a while ago. It was caught on a hasbeen tigernut of all things. Nice catch Rikus!
ACCOMMODATION
1. Camping
There is a large stretch of shoreline available for camping at Rietvlei Dam. As you drive in by the gate you turn left immediately, drive around the bend and you'll see the first ablution block. From there to the end of the road is the camping fishing area.
The area around the first ablution block is called the "sloep" and where the road ends is the island spot. You camp literally 50m or less from the reserve fence which means you often see some of the animals (including rhino!), and at night you hear them…
Have a look at our Rietvlei Dam map below to see where all these spots are etc.
Useful Info
Rates
The rates have gone up considerably this year and no-one is quite sure why 🙁
So if you are 2 adults who want to go fishing for the day you will be paying R65 x 2 = R130.
If you are 2 adults in 1 car who want to overnight camp you will be paying (R150 x2) + R75 = R375.
That's how we understand it anyway…
2. Chalets
The chalets are perfectly located and quite comfortable. There is a large ideal fishing area in front of them with some really deep waters. They were out of commission for a while but most are available again.
We've stayed there since they re-opened and it was great. We caught many large bass and the carp fishing was pretty good too. Check out the video below for more detail.
Rates
Have a look at the overall rates above. This year for the first time there is a difference in price between the 4-sleeper and the 6-sleeper. The 4-sleepers goes for R980 / night and the 6-sleepers for R1250. And apparently chalets 1-9 are the 4-sleepers, and 10-17 are 6-sleepers.
The best way to book these very popular chalets is by sending an email to rietvlei-angling@tshwane.gov.za, or by physically driving to the gate and speaking to them there.
General
1. Safety
Touch wood but there have been zero incidents for at least 4 years at either the camping or chalet side. So it's one of the safer places you can go. At this point, the only real threat are the hippos 🙂
2. Contact info
3. Map
SUMMARY
Video
Our latest stay at the chalets – Oct 2022
Our first session in 2021 was better than expected.
Here's a quick video of some pre-spawn bass fishing.
Here's a quick video of our experience staying at the chalets in October 2019.