We enjoy all forms of fishing in our beautiful country. From carp fishing, to barbel popping, to flyfishing for tigers, we are really spoilt for choice. But our favourite fish to target is probably bass, and here's why.
Firstly, bass are a lot of fun to catch. They are aggressive and strong, and their spectacular aerial displays during the fight is very exciting. Secondly, it's a very accessible form of fishing. Even though there is a vast array of lures to choose from, you ultimately only need one rod and a few plastics and you can start fishing within minutes.
And then there are the venues. During our travels we've been privileged enough to visit some magnificent fishing spots all over the country. Places like Beacon Vlei have become like second homes to us purely because of the excellent bass fishing on offer.
But this article is about the bigger dams in South Africa that, in our opinion, have exceptional bass fishing. So here's what's included:
these are the bigger, public dams, not smaller, private venues
mostly dams we've visited and that we can vouch for
all of them are in the Limpopo, Mpumalanga, Gauteng, North West and KZN provinces only, we know there are some excellent dams in the Western Cape like Theewaters and Clanwilliam, but we haven't been there yet
So with that out the way, here they are, our top 10 bass fishing dams (so far)…
1. Albert Falls Dam (Pietermaritzburg, KwaZulu-Natal)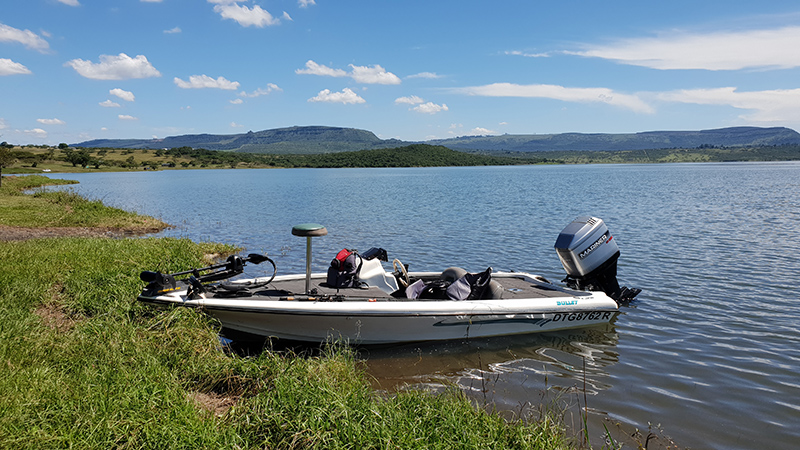 No surprises here, most people will agree that Albert Falls Dam has to be one the best bass fishing venues in the country. It's the home of many angler's personal best and consistently delivers freakishly big bass. For quite a while it was at a very low level, but in the last few years the dam is nice and full which resulted in even better structure for bass to thrive in.
We've been there a few times, with mixed success, but it's always a very enjoyable experience. And besides it's very thrilling to know, it's very possible, that at any moment you could hook into a 5kg monster.
You can stay at either of the Msinsi resorts (Albert Falls & Bon Accord) which are located either side of the dam wall. There are camping and chalets\rondawels on offer, and a few launches. And now that the water level is so high we also recommend Fish Eagle's Lair on the other side of the dam.
2. Arabie Dam (Marble Hall, Limpopo)
Arabie Dam (aka Schuinsdraai) is perhaps a controversial 2nd choice but we had an absolute blast during our visit here. We've only been once but the bass fishing was unbelievable. And we were blown away by the beauty of this fairly unsullied wild paradise. It's a surprisingly big dam with lots of sunken trees which makes for perfect bass habitat. But to be honest we were catching bass all over the dam, in all terrain.
One word of warning would be to be watchful of the huge crocodiles that roam these waters. Arabie is well-known for its healthy population and they can look quite menacing staring at you from the banks…
We stayed at Aloe Park which has lots of camping options but inside the resort there are also houses being rented out privately which is what we did. Aloe Park also has 2 launches.
3. Midmar Dam (Howick, KwaZulu-Natal)
At number 3 is Midmar Dam which is the home of Linky's pb (above). This is another dam we've been to quite a few times with varying degrees of success. On most days we catch dozens, but when it's being moody Midmar can be very frustrating. Luckily those days are not as frequent and we generally have a great time bass fishing here.
It's a large dam with a great variety of terrain to target bass at. Areas like Pylon Bay and Thurlow are excellent, but even if you don't have a boat you will catch bass from the side in the well-kept nature reserve. Many anglers (like Linky) have caught their pb at Midmar, and some of of those have topped 5kg.
The only real accommodation option we've found is the nature reserve. But it's huge and well-maintained with very good camping facilities, much better than other reserves. They also have a multitude of chalets available, and many launches.
4. Mearns Dam (Mooiriver, KwaZulu-Natal)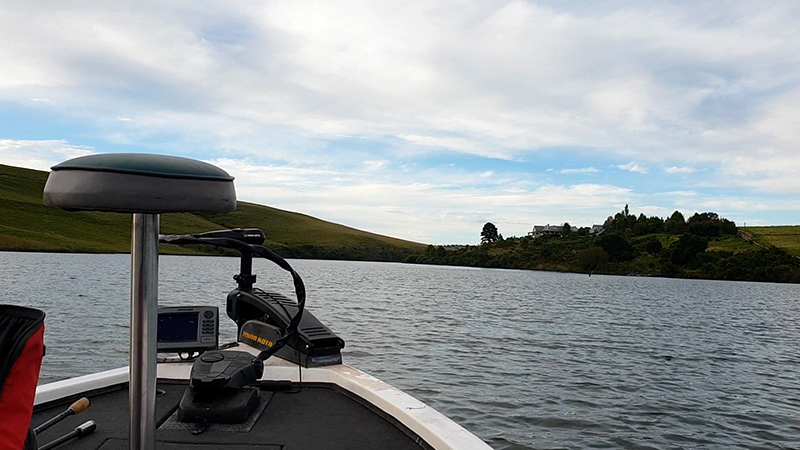 Mearns Dam is not a well-known dam, and we found it by chance during a trip to the Midlands. But ever since that first visit we've been going there regularly and it's become one of our favourite bass fishing venues. We've had some spectacular days on these waters and we haven't even explored half of it.
It's not a wide dam, it's elongated with a very long stretches of coastline which is perfect for bass fishing. It's also well-known for the sunken trees in the center where creature baits work very well.
Accommodation is limited but Fountain Hall has some nice camping and chalet options, and they have the only launch on Mearns. Station House Waterside Getaway is another great cottage very near to the water.
5. Loskop Dam (Groblersdal, Mpumalanga)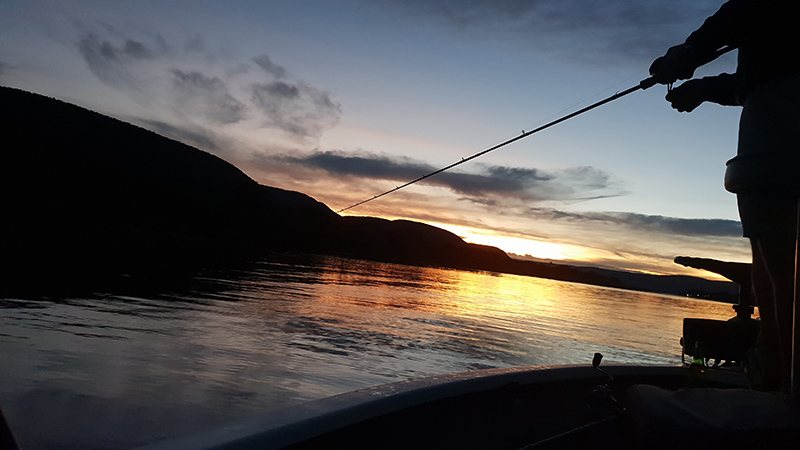 Loskop Dam is also called "the dam of a thousand casts", and we had no idea what that meant until we spent a weekend there. After two days of committed fishing we ended up with a single bite and zero fish. So why is it so high on this list? Well because it's currently the home of the South African national record largemouth bass (7,19kg).
We had a bad outing but generally Loskop delivers some fantastic bass fishing to those who know what they are doing (unlike us). It's also one the most spectacular dams we've been to in terms of scenery. And if the bass fishing gets tedious you can always target some of the many other species offered by this healthy, thriving dam.
We stayed at Marulani Kloof Lodge which suited us perfectly, but if you have the cash and you prefer a more resort style accommodation then the Forever Resort is excellent. Both have comfortable launches.
6. Boskop Dam (Potchefstroom, North-West)
In our experience Boskop Dam always seems to deliver. During our various visits we've always had a lot of fun catching some decent bass in this smaller but flourishing dam near Potchefstroom.
The water is normally clear and the bass are very active and aggressive. We had lots of success on topwater as well, using horny toads to great effect, which is always exciting.
In terms of accommodation Tanglewood is the place to be. They also have a launch and lots of waterfront for bank fishing. If you like something a little more private try The Boathouse.
7. Rust de Winter Dam (Warmbad, Limpopo)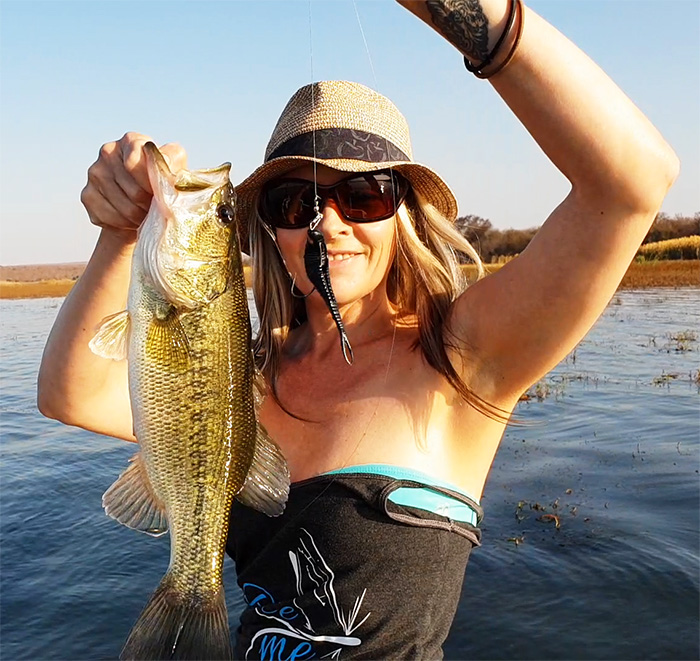 Rust de Winter is just to the north of Pretoria and is one of those rugged bush dams teeming with widlife all over the place. It's home to a few hippos and a considerable crocodile community (there has been attacks on bank fishermen), but if you keep your distance (on a decent boat) you should be safe 🙂
Rusties can be temperamental but we always seem to catch lots of bass here. In the shallows among the banks you will always be rewarded with as many dinks as you want, and the river section can be lucrative for larger bass. We also really enjoy the so-called "salad bowl" where topwater frogs in the afternoon provides some thrilling blowups.
You can stay at Montle Metse on the river if you want a bit more comfort, otherwise you can camp at the nature reserve. Both venues offer launches.
Read more about Rust de Winter Dam…
8. Inanda Dam (Hillcrest, KwaZulu-Natal)
Inanda is yet another fantastic dam in KZN. It's a regular for tournaments in the area, and many monster bass are caught every year, many angler's consider it to be their favourite dam. The only reason it's so low down for us is because sadly in recent years it has been the victim of pollution, and this has led to an explosion of hyacinth which is reaching alarming levels.
Personally we've been there only once and we didn't have a mind blowing fishing experience. There was a very unstable weather system and the fish just weren't interested. Still it was quite obvious how much life and abundance of fish there were all around. We hope to return one day to settle the score.
The only accommodation we could find was Msinsi again, and the facilities and launch looked decent if you ignore the hyacinth.
9. Bronkhorstspruit Dam (Bronkhorstspruit, Gauteng)
Our closest big dam is Bronkies, and it's where we honed a lot of our skills. Over the years we've fished at Bronkhorstspruit Dam dozens of times and more often than not we were handsomely rewarded in quality and quantity. Recently though it's been hit and miss, and the hyacinth and algae blooms have also been plaquing this once healthy dam.
We've had the most success pitching among the jetty's and piers along the built-up northern shoreline. Lots of big bass there hiding under the various bridges and docks. During the spawn we head to the shallower southern side, when there is more grass into which the bass converge.
You can stay at Kaia Manzi, or if you would like something a bit more affordable then Baja Dam is a good option. Both have decent launches.
Read more about Bronkhorstspruit Dam…
10. Witbank Dam (Witbank, Mpumalanga)
Witbank is another dam we've been to many times over the years. We mostly went there to go carp fishing but over time we realised how good the bass fishing was too, and consequently that became our main focus (especially after we finally bought a boat).
It's a big dam with an interesting channel in the middle which almost divides the dam in two halves. And this is exactly where we've had the most success. All along the docks on the eastern side is also very lucrative especially when the grass forms passages that the bass lurk under. Our lure of choice is the trusty junebug fluke, but any creature baits work very well.
There are many accommodation options including Maanlig and Steve's Place and you can launch your bass boat at both.
Special mentions
Summary
And there you go, those are our picks for the top 10 bass fishing dams in South Africa. Hopefully this article will guide you to your next personal best monster bass 🙂
Below are some videos of the places we've visited, and if you have questions \ suggestions \ comments please don't hesitate to contact us at anglinks777@gmail.com.
Videos