We had an opportunity to go to Qwantani through friends and naturally we jumped at the chance. We know Sterkfontein Dam fairly well but always from the nature reserve side. It's a beautiful dam (possibly most beautiful and cleanest in the country) and we absolutely love going there. But the dam hates us…
fishing
I say that because we hardly ever catch anything and the famous Sterkfontein storms has hit us on a few occasions. This trip was an improvement to an extent. The weather again proved challenging on a few occasions and massive carp where spawning all over the place with absolutely no interest in our bait. But the bass were hungry…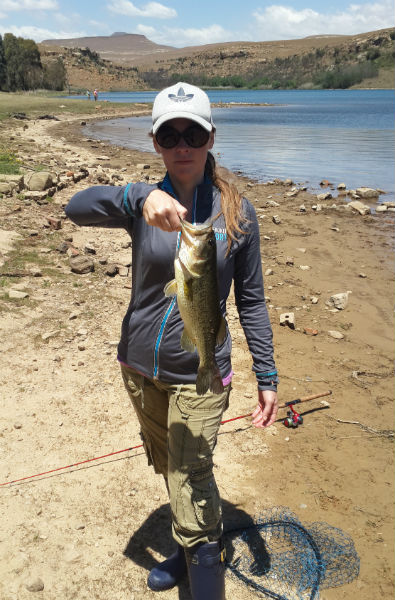 We caught many bass like the one in the photo, they were going crazy for small cranks. It turned out to be a lot of fun. For once Sterkies was less stubborn and allowed us to enjoy ourselves.
As for carp, yellowfish, barbel etc. we didn't get a single bite. Partly because of the spawning activity and partly the windy conditions I'm guessing. Anyway it was still enjoyable fishing-wise, better than past experiences.
accommodation
Of the many accommodation options at Qwantani we stayed in chalets. It was clean and updated, really comfortable and well-kept. That combined with the amazing views and occasional wildlife visits made for an excellent stay. On the grounds there were also loads to do (hiking, mountain biking) and the on-site shop, restaurant and bar catered to all our needs.
We'll be back if we get another special like that. We still have to be there when the famous Sterkies yellowfish are biting. They have eluded us so far but maybe someday we'll time it correctly…
Summary
Nice resort with amazing views and good facilities. Fishing was good despite the weather and the side-tracked carp. Lots of space for all kinds of other activities.
(2 days)
bass x8 (medium)