Every time we go down to the Natal Midlands we try and visit a fishing spot we haven't seen before. Inanda Dam wasn't always on the radar because it was just a tad too far from our base in Nottingham Road. However during our last trip we had the opportunity to meet up with Tiaan again so it was a no-brainer.
Fishing
As usual Tiaan was there very early and already had a few fish in the bag by the time we arrived. He immediately took us out to the eastern areas of the dam where the fish had been biting.
We were surprised by the amount of hyacinth at Inanda, they formed thick edges all along the banks of the dam. This is obviously not a good thing (just look at Harties), but it does provide the bass with great habitat. They like to hang around the edges of the hyacinth walls to ambush prey, and this is what we targeted from the start.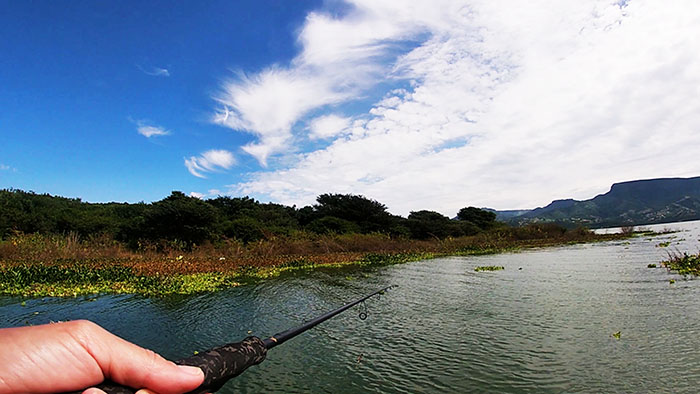 It worked well from the start and we caught quite a few decent fish with watermelon red grubs and flukes. Tiaan also did very well with his texas-rigged senko.
As the day wore on the fishing started to get slower so we moved to some other spots nearer to the dam wall. Here were some quiet enclaves which had lots of potential but the bite was off so we only caught an occasional small bass here and there.
We eventually decided to call it a day when the weather got a bit rough. And so our quick but enjoyable visit to Inanda ended a bit ubruptly. We still had a great time and here's a quick summary of how we did.
Summary
A great day out on Inanda Dam, it was short and the weather was a bit rough but we managed to catch around 15 bass. It was great to see Tiaan from SA Bass Fishing Tours again and he skippered us around the dam like a champion. We'll be back at Inanda one day for one of those elusive monsters.
(1 day)
bass x13 (small)
bass x2 (medium)