For my birthday we went on an 8-day trip to 3 different fishing destinations:
Here's a brief summary of our first stop, McFarlane's.
We found this hidden gem by chance while looking for accommodation in the Harrismith area. It's quite a bit south of Harrismith along a dirt road but well worth the trip. We didn't know what to expect but we were pleasantly surprised with the setting, and the bass were hungry.
Fishing
We quickly unpacked and started fishing from the side initially. The water was so clear you could almost do sight fishing. Martin spotted a large fish and after enticing it for a short while with a small fluke it finally lost it's temper and gobbled it up. Here's the result…
As usual the photo was quickly taken and the fish was immediately safely released. I also caught a few before we rigged up the supplied boat and headed out. More fish were promptly caught, almost all on flukes.
Accommodation
The house and setting was beautiful. It's pretty much as secluded as you could hope for, it's just you and the house and the water, literally nothing else in sight. The house itself is big with everything you need including an outside boma with a view of the hill.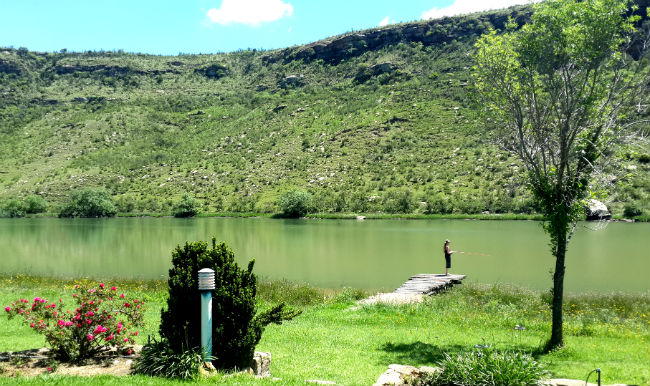 Summary
Great first stop on our trip with some really good bass fishing. Really surpassed anything we expected, we'll definitely try to go there again in future.
Next stop: Beacon Vlei – Howick
(1 day)
bass x2 (big)
bass x8 (small/medium)