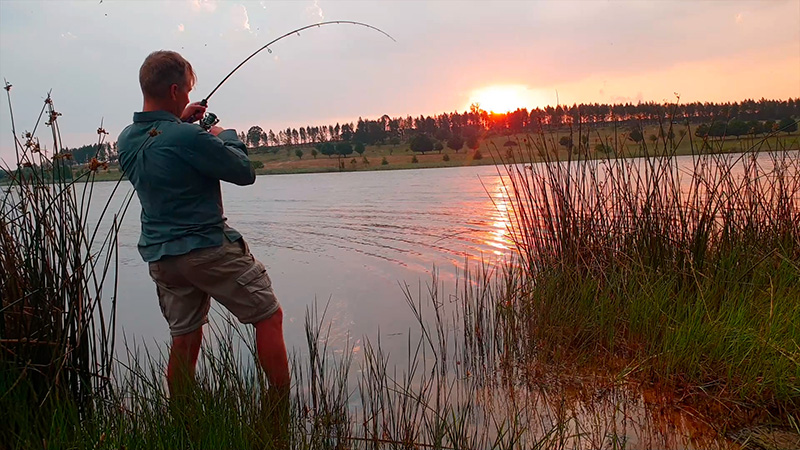 From Little Scotland we traveled back towards Ermelo and then Lothair to the final destination of our November fishing trip, Tolderia. We knew very little of the place, we weren't even sure if the fishing was any good. But it turned out to be a fisherman's paradise and the perfect end to our epic trip.
Fishing
Tolderia has an incredible large private dam. You can't help to be a bit stunned when you enter the estate and the dam is revealed (after a short dirt road). It's a spectacular site to behold. But as we reached our accommodation (the dam house) we still weren't sure if there were any fish in the dam. That was quickly answered when Martin caught a fish with his first cast right in front of our house. We were in heaven.
Tolderia also provides kayaks and small boats free of charge, and we spent the next two days just paddling all over the dam and catching dozens of bass. The dam is big enough that we probably only covered like 60% of the bank and there is also a river section that we never even got time to explore. The fishing was that good that we got stuck at certain spots for long periods.
In terms of size, we were catching small fish at will. It was just too easy, sometimes cast for cast. But every now and then we would actually hook some bigger decent fish. Here are just a few:
They were basically biting on anything but especially small flukes, and small jerkbaits. In the afternoon and even late at night it was topwater heaven with them smashing poppers or frogs. So much fun!
Incredibly Tolderia also has 3 "smaller dams" below the main dam. These dams are also large and each have a very healthy bass population too. We saw some very big fish in these dams and we could easily spend a week just fishing them…
To get there you drive around the back of the main dam and down an embankment. The dams border each other with a passage between them that you can drive along with a car. It's so well laid out you can basically fish 2 dams at the same time. NOTE: You need a vehicle with high clearance to visit this part of Tolderia.
But wait there's more! Tolderia also has a trout dam which is visible as you drive into the resort. We didn't have time to try it out though but we'll be going there soon again…
Accommodation
At Tolderia there are impressive large chalets right on the water in the main part of the resort but we stayed at the dam house which is a fisherman's dream. We were completely dumbstruck though when we arrived and had a look around. The house is huge and built attached to the side of a boulder. It's actually part of the house and inside there is a living fern garden, we've never seen anything like it. The kitchen, lounge, bedrooms, and bathrooms are all excellent with lots of nice little touches that make the whole place perfect.
Outside there is a massive lawn bordering the water with a slipway where you can keep the kayaks and boats safe. Fishing from the lawn was fantastic, especially at night when the topwater bite was on. Just above the house there is also a pool with a sort of entertainment area and even more bathrooms etc. The whole package was unbelievable. Add the fact that it's also secluded, completely separate from the rest of Tolderia, and you have the absolute perfect bass fishing spot. It truly is one of the best places we've ever stayed at.
Jericho Dam
On a side note, we also visited Jericho Dam on the way to Tolderia. It's somewhere between Ermelo and Amsterdam and came highly recommended, and since we were driving right by it we decided to go have a look. It's also free to go in and we were very impressed by the place. Lots of structure, grass, and lots of fish. We were only there for about an hour and managed to catch a few proper bass during that time.
We hope to someday go back to Jericho Dam with a boat and really fish it properly, it really looks like a fantastic venue…
Summary
Tolderia is officially one of our happy places. It exceeds every requirement we have in terms of fishing, accommodation etc. We caught bags of small bass with some large ones in between and we didn't even explore all the areas Tolderia has to offer. It was a truly fantastic experience one that we'll probably be repeating many times in the years to come…
(2 days)
bass x60 (small)
bass x8 (medium)