We recently did another week-long fishing trip to Mpumalanga but this time in the Ermelo region. We noticed there were quite a few interesting bass fishing spots in that area and since we've never been there before we decided to give it a go.
Our first stop on the trip was a working farm just outside Ermelo called Green Thumb.
Fishing
Green Thumb boasts quite a few impressive fishing dams. All of them contain bass with the larger ones also holding a substantial population of carp. Here are a few photos of the dams.
We were there purely for bass and in the smaller dams we managed to catch dozens of smaller ones but surprisingly there was also the occasional decent bass that came out. Some of them were quite big considering the size of these dams. As usual, any small flukes worked extremely well…
We didn't have too much luck in the much bigger carp dams but we didn't spend much time there either since we were having so much fun in the smaller ones. Next time however we'll be sure to bring some carp gear so we target carp as well.
Bad weather cut short some of our sessions but in the time we had the fishing was really good.
Accommodation
Green Thumb is a working farm and as such you are surrounded by farm life which always feels relaxing. There are wide open spaces with lots of life everywhere as you drive around to the different dams.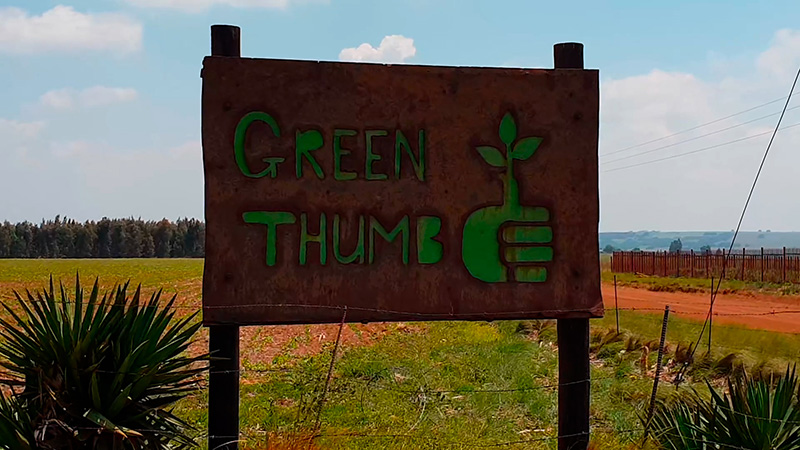 The house we stayed in was big and very comfortable with a large lounge area and an outside braai. It's quite secluded from the rest of the farm buildings so you can privately enjoy the scenery.
Here's a look inside the house.
Summary
We had a great time at Green Thumb and it was a surprisingly good fishing experience considering it's not a well-known fishing destination. Overall the accommodation and fishing options were right up our street and it was a fantastic start to our Mpumalanga trip.
(2 days)
bass x30 (small)
bass x6 (medium)