Friends of ours have always spoken very highly of Boskop Dam. Tales of crystal clear water and a diverse variety of fish species always sounded too good to be true. The only thing stopping us from going was accommodation. But that all changed when we discovered The Boathouse.
Fishing
We visited Boskop Dam over the Heritage Day long weekend and again we were greeted by some unusually windy conditions. Luckily we had three days this time and we knew there had to be some better weather along the way. Since the boat wasn't an option we initially fished from the side right in front of the Boathouse with a lot of success.
We caught quite a few bass, and it was pretty exciting being able to almost sight fish for them in the clear water. Standing on the porch\jetty in front of the house you have a great vantage point to target bass. Here's some evidence of our catches.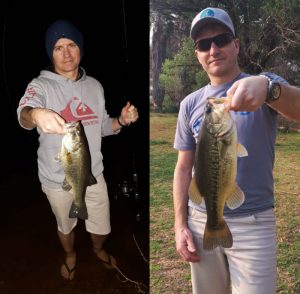 Over the next few days the bass started getting more and more shy as the weather deteriorated but we still managed to catch one or two per session. Especially when we were out on the boat heading towards the yacht club. Night fishing also again proved fruitful as we bagged quite a few nice ones as well as my biggest bass of the weekend!
We tried for carp each night as soon as the light started to fade. You can set up right there at the Boathouse, there's plenty of space around. You have to watch out for the trees overhead when casting but by just walking in a few meters it becomes easy. There is a bit of grass deeper in, and we lost a few fish in there, but if you have a boat of some sort you will be sorted.
All that said I managed to catch my pb mirror carp! A nice fat 3.5kgs! It ran with my one line like a bat out of hell and after a 5min fight, Martin had to go fetch it in the grass. Luckily he was able to land it and we released it quickly after taking some photos.
Along with the one carp we managed a few barbel as well. Not a bad haul when we weren't expecting to even target carp.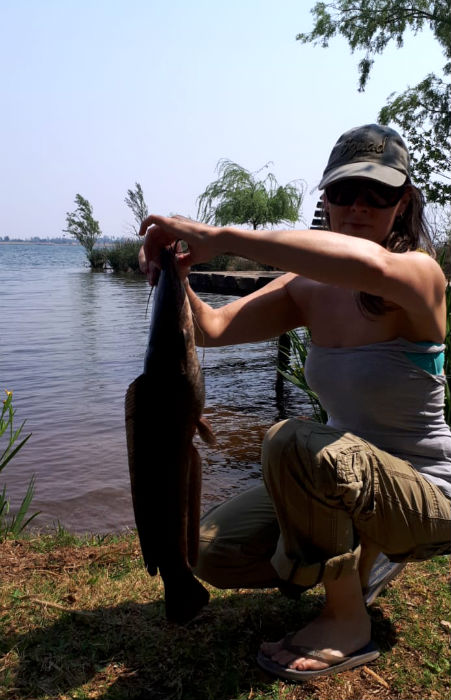 Next time we'll be spending more time targeting yellowfish and the elusive moggel. A fish we've never even seen before but we know there are some at Boskop Dam.
Accommodation
The Boathouse itself was perfect for us as a fishing couple. It's quite big compared to other places we've stayed at, with everything you need. The water is within meters of the front door and you have a great view of the dam from almost every room, including the bedroom and the main open area.
Outside is a big area to fish or just sit and relax under the trees while watching the world go by. The water is very clear (I might bring a snorkel next time) and you can launch a small boat from right in front of the house. The porch extends into a jetty which is great for fishing or just chilling.
A further extra is the animals on display on the property. There are a variety of large birds to view from blue cranes to swans, and on the other side are deer and even a group of llamas! Really cute and interesting 🙂
If you require supplies you can always visit Tanglewood Nature Estate right next door, they have a small shop and a bar (in case the rugby is on). And if they don't have what you need you can always visit Boskop "Mall" just about 2km down the road. Try the biltong at the butchery there, we really enjoyed it.
Summary
We loved our stay at The Boathouse on Boskop Dam. The fishing was great despite the weather and the accommodation perfect for us. We have some unfinished business in terms of fishing (moggel) so we'll definitely be returning soon…
With the water so clear the bass were more interested in natural patterns. Things like watermelon or baby bass flukes worked well, and watermelon swimbaits also proved popular. The barbel were fond of perdeby (cinnamon) floats and the one mirror carp we got was on banana floats (we think).
Dam rules: if fishing from a boat you are not allowed to go inside the yellow buoys, they demarcate the private areas which includes The Boathouse, this became necessary when some people failed to respect the the obvious
(3 days)
bass x25 (medium)
barbel x3 (small\medium)
mirror carp x1 (medium)