Oppiwalle is another great Vaal River fishing spot very near to Parys. We heard some great things about it and finally got our chance recently. Here's a quick summary of our experience.
Fishing
We haven't been catching millions of fish lately. At Flamingo's River Lodge and Heathbridge we did well but the changing of the seasons definitely made it more difficult than normal. At Oppiwalle we did slightly better.
We were welcomed by Danie who made us feel very welcome and took his time giving us valuable fishing tips, what to use and where to cast. Heeding his advice we quickly got the our rods in the water and started getting bites straight away. But as before there were constant action but very few runs.
We started thinking it must be mudfish with their weird-shaped mouths that are responsible for most of the bites and are more difficult to catch. Some of them however were more greedy than others and got themselves caught 🙂
We managed to catch many mudfish in the end, they are actually feisty little fighters and a lot of fun. But we were there to catch a massive Vaal River carp or two. Something that unfortunately never happened. Maybe the mudfish were too quick or maybe we were using the wrong bait. Either way no carp this time round.
Martin did however manage to snare one decent smallmouth yellowfish that took off downriver like a rocket.
Oppiwalle is actually a perfect location for barbel . With the island, and rocky parts on either side you can just imagine it's the perfect habitat for them. Using chicken livers again we caught quite a few barbel, mostly smallish but every now and then a nice sized one would show up. In season this place should be teeming with them.
Accommodation
Oppiwalle is another great destination for a fishing couple. The rates are very reasonable and the facilities outstanding. It's inside an estate of sorts called Jumanji and therefore quite safe.
The house (Pondok) has everything you might need. The single bedroom is cozy and has a river view. If you are a larger group there is a separate unit called the Kardoesie which basically consists of more beds and a cupboard. It has it's own outside ablution facility but no kitchen etc. It's meant to be extra sleeping quarters.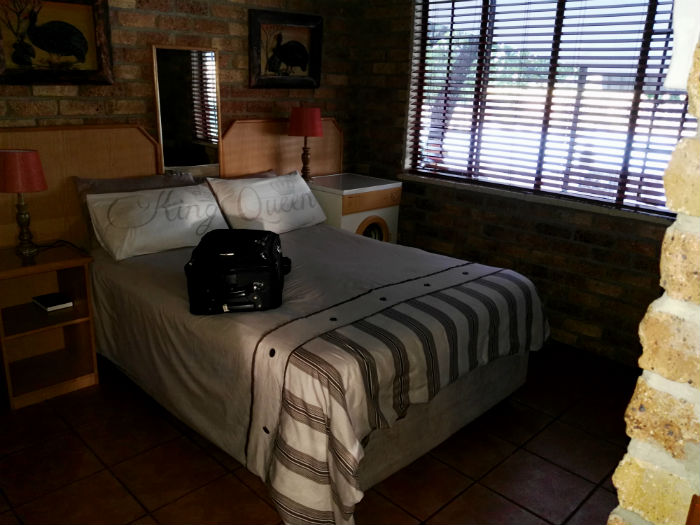 The fishing area is great. Again terraced walls with steps going down to the water and a lawn as the last platform. A lot of effort has been put in and it makes for really convenient fishing. There's also a canoe available for use.
There is an island to the right which restricts casting but the water in front of it is extremely deep apparently so it's actually a bonus. Another bonus is the fact that the island blocks the worst of the river flow so you can be assured of mostly straight lines even if the river is flooding. In terms of snags you will get stuck if you cast really far left or right but 80% of the area is fairly snag-free. Just ask Danie and he'll be happy to explain.
Summary
Another great Parys Vaal River fishing venue. We really appreciated the closeness and convenience of the terrace. The fishing was better than expected especially as it was early winter. Danie was very helpful and his homemade preservative-free boerewors was a hit.
There's a rock right in front of the fishing area to the left of the island, cast anywhere to the left of that but not too far. And also in front of the island but closer to the lefthand edge thereof. Garlic, TCP and especially bunspice worked well. Chicken livers for barbel.
(2 days)
barbel x6 (small\medium)
yellowfish x1 (medium)
mudfish x6 (medium)