This is our first unhappy post. Not because of the venue, Nandini itself is another great fishing location. It's because we experienced first-hand the tragic state of the Vaal River.
We booked at Nandini before the pollution storm which broke out in July. The photos circulating on social media was disgusting and upsetting but I didn't think it would affect us that far upriver. I was very wrong.
Vaal River Pollution
Let's get it out of the way. While we were there the water was a foamy mess and there were dozens of dead muddies floating by. This is obviously not isolated to Nandini, it's like that at every single venue along the river at the moment. At least the people at Nandini routinely netted the unfortunate fish and disposed of them. But it's very sad to see.
I assume the muddies succumb first because they are the hardcore bottom feeders. Who knows what damage will be caused if it continues. It's a shocking travesty and someone needs to be held accountable (Emfuleni municipality?). It's simply criminal.
We have been invited to join the Vaal Action Group which seems like a worthy cause, please also join if you have the capacity.
Fishing
Ok, with that said let's rather focus on Nandini's potential.
We noticed 3 things that are very beneficial to Nandini as a fishing venue:
1.) Very close to Nandini, just upstream, there is a weir in the river where the water continuously crash over the edge. This surely must be supplying the water in front of Nandini with lots of oxygen. Big plus.
2.) And there are some extremely deep spots, we were told some areas were at least 15m deep. There must be some monsters down there.
3.) We also know there are koi in the area. Some have been caught at Nandini and they have the photos to prove it.
Here's some photos of the fishing area (with foam in evidence.)
We didn't catch a single fish, not one. We had a few bites but no runs, and you can understand why. Not only did the pollution affect everyone's fishing, we also got the brunt of a cold front that weekend. So all in all bad timing, we'll just have to return soon.
Despite the conditions our neighbour (Jannes) still managed a nice 5.5kg carp. Here's the evidence.
On Saturday we gave up on fishing for a few hours and visited Parys for lunch. On the way there we decided to stop by The Dog & Fig brewery to try out some of their beers. Like many micro breweries nowadays you can order a selection of tasters. It's worth a visit if you like craft beer, and the food looked great.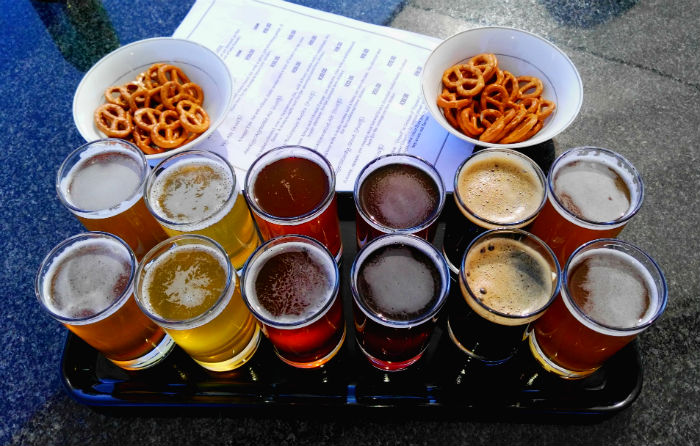 Accommodation
Nandini has a few different accommodation options. There's a cheaper basic unit, a one-bedroom unit and a two-bedroom unit. Here's some photos of the comfortable one-bedroom unit.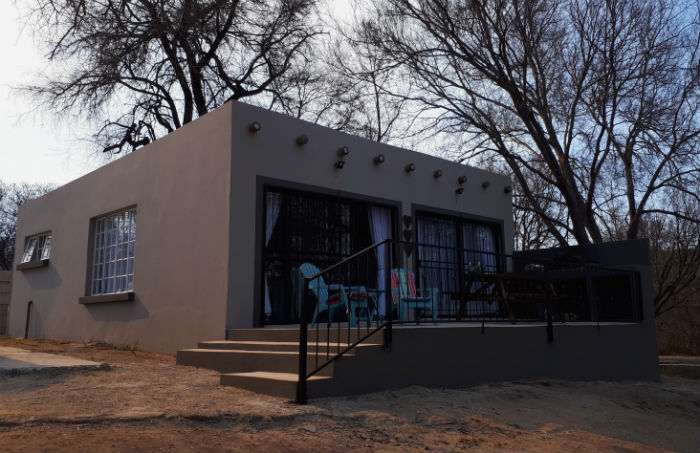 The fishing area is adequate, and there is a large covered braai / patio area right on the water where you can watch the river flow by. Also on the premises further away from the water is a large swimming pool and even a tennis court.
The hosts at Nandini are very friendly and accommodating. There are nice little touches everywhere that make you feel at home (complimentary Old Brown Sherry!) which we really appreciated.
Summary
Not one of our best weekends along the Vaal River for obvious reasons, but Nandini is definitely not to blame. We still had a good time and they made every effort to make our stay enjoyable. We'll have to return at some point to catch one of those monsters.
There's an underwater ridge near to the side which gets you snagged if you reel in slowly so try to keep your rod high and reel fast. As for bait the owner suggested garlic and banana floaties, those are his goto flavours. And our neighbour's carp was caught on gumtree.
(2 days)
zero / nada / nothing