Another visit to Erkhamka and another spectacular fishing experience. We had miserable weather, to say the least, but it was arguably one of our best carp fishing weekends ever. Here's a quick summary…
Fishing
Arriving in the rain, at night, after fighting through some of the worst traffic ever in Johannesburg, we were pretty despondent. But after lazily getting the gear out our spirits lifted very quickly when we had the first couple of runs soon after casting in. That laid the platform for the weekend and it just got better from there.
The weather was terrible, it was raining most of the time, but all weekend the fish were biting like crazy. This could be because of all the oxygen being deposited into the water by the rain, which makes them active. Whatever it was we were not complaining, it could rain all the time for all we cared as long as the fish kept biting.
In the end, we easily caught more than a dozen carp over 6kgs, with a dozen more slightly smaller than that. The odd small yellowfish also came out and quite a few large mudfish as well. Surprisingly not a single barbel was caught, maybe because they never had a chance to get to the bait. Here's some of our catches…

Accommodation
As stated in a previous post Erkhamka is situated directly opposite Vivere La Vita on the southern bank of Vaal River, about 30kms from Parys on a dirt road. It's a large house with 6 comfortable rooms, and 4 bathrooms!
There are some added luxuries you probably won't find at most other Vaal River spots which include a dishwasher, DSTV and even aircons in the rooms! Outside there is a lapa with a braai looking down at the river.
The fishing area is reached via a paved walkway down to the water where there are terraced lawns and lots of shady trees. The concrete platform makes landing fish a breeze. At night there is also a floodlight for those late-night sessions.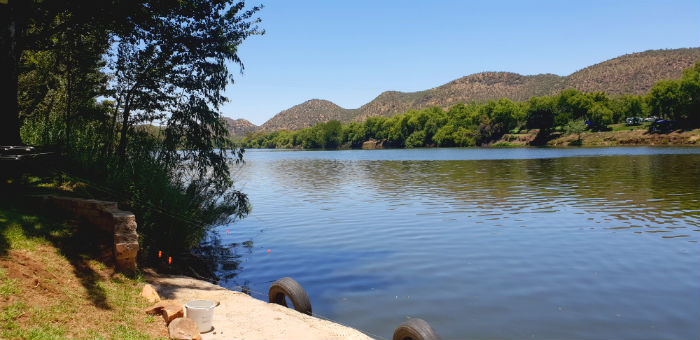 Summary
Perfect accommodation and big fish. Not much else needs to be said, we will definitely be returning to this place.
We think it's deeper on Erkhamka's side so don't cast too far. Floaties worked much better than mielies on this occasion, but that could just be because of some silt around. And almost any flavour worked but especially garlic and banana (or banlic :-)).
(4 days)
carp x6 (medium)
carp x12 (large)
mirror carp x2 (large)
mudfish X6 (large)
yellowfish X2 (tiny)