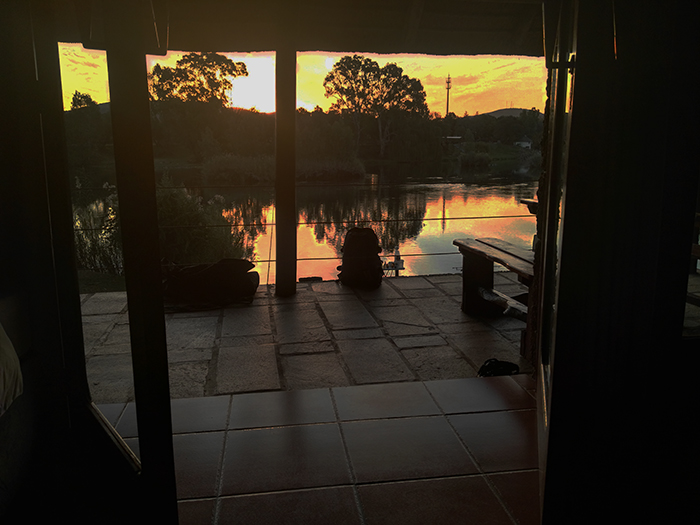 So our bad luck with winter carp fishing strikes once again. We recently visited The Dell near Parys to try and catch one of those legendary massive Vaal River winter carp. But like last year we blanked solidly and we couldn't even blame pollution this time. At least the place was great.
Fishing
To be fair our designated fishing spot wasn't ideal. Right in front of us it was quite shallow and rocky, and there was a constant strong current too. This made things extremely difficult for carp fishing. Add a cold front to the mix and it's probably no surprise we blanked spectacularly.
As usual we tried for all the other species as well with about the same level of success. We tried for barbel using chicken hearts (which we learnt to use while tiger fishing recently) but didn't even get a nibble, it all just came back out the water. We tried for largemouth yellowfish (using Salmo Hornets) after seeing some guys on a rubber duck catching them but no luck there either.
In desperation we also tried for bass but the cold weather almost certainly made that futile as well. The Dell actually has a few little quiet coves where bass should be lurking, but on this occasion they were not interested. We might go back there in summer to try again, I still have to catch a single bass in the Vaal…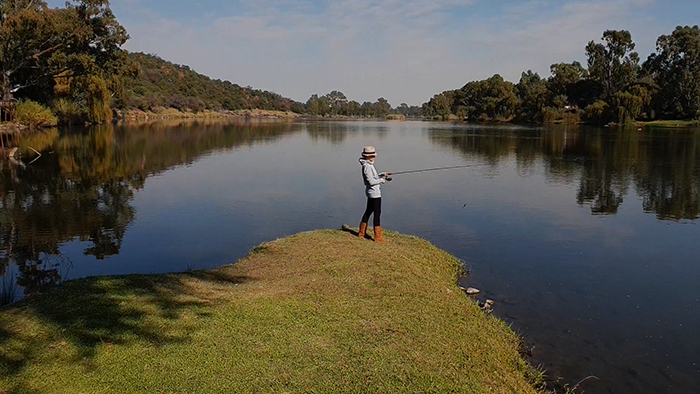 Accommodation
At least our accommodation was great. We stayed in Visarend which is the left most chalet. Inside is large open-plan area with a dining room, lounge, fireplace, a large four-poster bed and two single beds. The kitchen has everything you need and the bathroom is modern, lots of space all round.
Outside is your own private terraced fishing area complete with patio, firepit and built-in braai. It's all very neat and comfortable. As mentioned previously the fishing in front of Visarend is perhaps not ideal for carp. But guests are welcome to fish anywhere along their bank and not too far from Visarend is an ideal little point with deeper calmer waters.
We also walked around to the other units further down and they were much better located for fishing. The water there seemed deeper and most of the units we saw had private fishing jetties which was great. They have really put in a lot of effort with nice touches like walkways and strategic fire pits.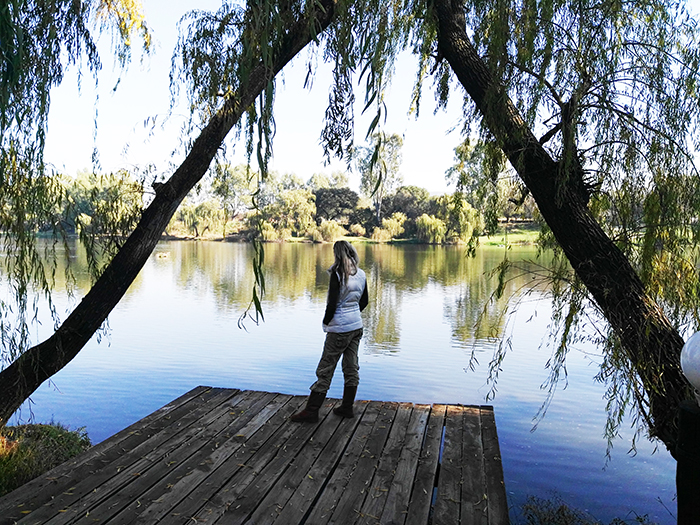 The Dell as a whole is a great place with lots of other activities like hikes and game drives. There is also game walking around everywhere and we were constantly visited by ostriches and monkeys, both trying to get to our mieliebom 🙂 It's also good to know that they have a well-stocked shop at reception with basic things like wood, ice, cold drinks etc. and even some carp fishing baits.
Summary
Great accommodation and location, but for carp fishing Visarend is probably not the best chalet, we'll definitely try Wildebeest next time. Having said that we really enjoyed our stay and even though we didn't catch anything we did see others catching fish so The Dell is potentially a very good fishing spot. With lots of other added attractions…
If you are staying at Visarend and the current is too strong rather walk to the left, there is an ideal point from where you can catch with the current into deeper calmer waters. Also try for yellowfish among the rapids if you have a boat, and don't use chicken hearts for barbel 🙂
(2 days)
0, nada, nothing, zip