As winter started to lose it's grip we decided to take another Vaal river trip before bass season started in earnest. Vaal de Sioleh was running a special so we jumped at the chance.
Fishing
Getting there was a breeze, it's quite near to Parys, and once we were unpacked we quickly set up and the fun started. Our very first fish turned out being the biggest one of the weekend but at (possibly) 8kgs it was hard to beat. I say possibly because our scale disappeared since our last trip so we couldn't confirm. Have a look…
That first day and the next we simply continued catching fish at regular intervals. They didn't bite all the time but when they did you had to run or you'll lose a rod, these river fish are big and fast. This actually suited us perfectly, we obviously prefer catching 5 big fish to 60 small ones.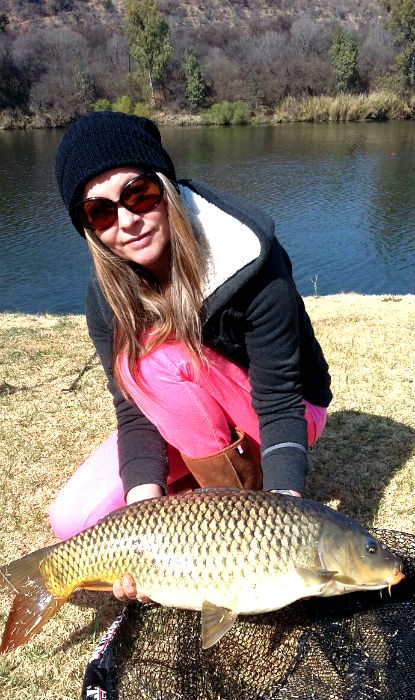 Our neighbours were also catching regularly, it became a team effort sometimes because the fish were definitely not coming out quietly. We did lose some fish because of snags (customary anywhere on the Vaal) but it wasn't any worse than other places.
We also fished at night with a lot of success. It was convenient with your chalet so close to your rods, you could simply sit on your porch playing poker while waiting for the slightest movement or sound 🙂
Accommodation
The self catering chalets were great, very comfortable and big inside with everything you need. You have a braai on the side with a view of the river and behind that there is a swimming pool (and a pub?) which is probably quite popular in summer.
The only issue is that there are 6 of them and it could become busy if everyone is fishing, some chalets have a tree in front of them. There is an embankment to get down to the water also which makes it difficult sometimes to land fish. But in our case we had a wonderful time and hope to return again soon.
Summary
Lots of big powerful fish that really make you work. Great location on the Vaal river with very comfortable accommodation.
Fish count
carp x8 (big)
yellowfish x2 (big)
Links
Map \ exact Location
Similar nearby fishing spots
Erkhamka – Vaal River
Flamingo's River Lodge – Vaal River
Goosebay Canyon – Vaal River
La Retraite – Vaal River
Nandini – Vaal River
Oppiwalle – Vaal River
The Dell – Vaal River
The Riverhouse – Vaal River