After finishing his first mountain bike stage race, Trail & Trout, Martin and I headed to the Vaal Dam for some well-deserved r&r. As accommodation we decided on a place called Inloop. It's on the southern side of the Vaal Dam about 30kms north of Frankfort and promises 5kms of private coastline for you to explore with no-one else around.
Fishing
Despite the vast area to use we set up very close to the house for obvious reasons. And with the dam being around 90% full it meant our rods were only 15m away. The fish started biting right from the start without much encouragement necessary. Lots and lots of little fish biting all the time. We caught loads of carp (mirror and common) to the extent that we sometimes left rods out to catch a breather 🙂
Other species also came out, especially small yellowfish, grass carp and the occasional mudfish as well. No barbel though, but we didn't really try either.
We didn't really catch any big ones this time, the biggest carp turned out to be around 2kgs but we have since realised that it's quite shallow in that part of the dam, especially with the dam being so full. So next time we'll try to get our lines out with a boat, or maybe set up on the righthand side of the house where it's deeper apparently.
Accommodation
The house itself is quite big with 3 rooms downstairs and a loft with more bedding. With a nice boma outside, a splash pool and wide open spaces, it's the perfect place for families. In terms of self catering accommodation it's pretty great.
Another massive bonus is the sunset over the dam. A beautifully fitting way to sign off each day (night fishing wasn't always possible in the cold nights of May).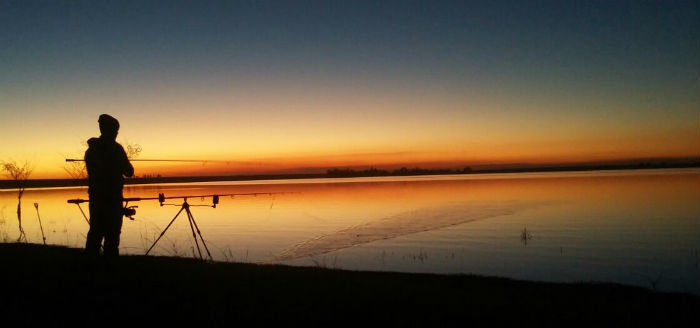 Summary
Private wide open spaces with lots of fish. We didn't get any big ones but we know why, next time we'll put in some more effort. The house is big and comfortable with everything you need.
tips
Pretty much anything worked, if you want to catch small to medium fish of all kinds. But to catch the larger ones we would recommend you use some form of boat to get your lines deep. Also looking at contours you will find deeper water right in front of the house or to the right of it. The further left you go the shallower it gets.
Fish count (3 days)
carp x6 (medium)
carp x40 (small)
mudfish x10 (small)
yellowfish x10 (small)
Links
Contact Info
083 234 9882 (Suryn)
Map \ exact Location