intro
From Beacon Vlei we headed north along Nottingham Road with a quick visit the Nottingham Road Brewery at Rawdons to buy some craft beer before we head back home. We followed the road north to Rosetta where we had a quick lunch at the Rosetta Hotel, another pub we really enjoy. From there it was a few kms to Station House Waterside Getaway at Mearns Dam.
Before this trip we had never before heard of Mearns Dam, and even today we cannot seem to find much info on it. But what we now know is that it's a wonderful bass fishing location, a hidden gem in the Midlands. It's basically a widening of the Mooi River with lots of structure (sunken trees) and lots of grass beds, perfect habitat for bass.
fishing
After arriving at Station House we quickly rigged up the supplied boat and headed out over the weeds and into the many channels at Mearns Dam. At first we only caught a few smaller bass but we soon figured out the bigger ones were lurking along the grass edges and then things became a lot of fun.
Even Martin managed to catch a few while trying to negotiate the grass and wind 🙂
The next two days we continued catching a lot of fish and even made it as far as the dam wall while trolling the inner channels. We were told of better spots upriver which were just out of our reach but that only means we'll have to return again and again.
Off course night fishing was also attempted and the black flukes again proved very popular.
accommodation
Part of the reason for the dam's obscurity we think is the fact that all of it is bordered by private farm land and there are very few accommodation options. One of those options is Station House Waterside Getaway where we stayed. True to it's a name it's a house built on the old Fountainhall station which was on the route between Joburg and Durban.
It's a really charming cottage with trademark wooden floors and an inviting porch that overlooks the dam. The place in general is simply peaceful and beautiful. We really enjoyed our stay and would recommend it to anyone. Ian and Diana Cawley were great hosts and Ian especially was continually making sure we had the latest insider fishing tips, being a former bass pro himself.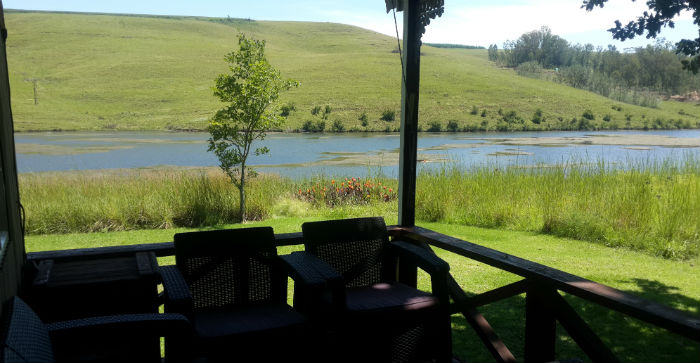 Summary
Great fishing, large area with lots of fish almost everywhere. Station House was the perfect accommodation for us and the dam itself a hidden gem. We'll be back soon…
Inner channels along the bank either side of the dam. Not much action in middle by sunken trees. Chartreuse and watermelon grubs mostly (anything with a swimming tail actually).
(2 days)
bass x25 (small\medium)
bass x5 (large)