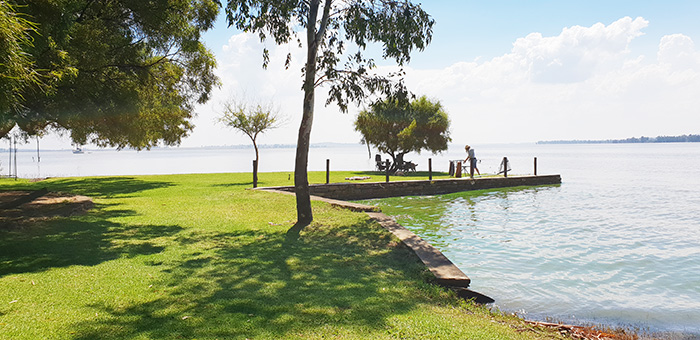 Our previous Vaal Dam fishing trips haven't always been great. Sometimes the weather didn't play along, and even when conditions were perfect we basically only ever caught tiny fish. This was mostly because of the shallow areas we normally found ourselves at, but also partly because Martin can't really cast further than 80m 🙂
But recently the dam level had risen to over 100% and there were reports of bigger fish coming out. So we decided to visit the Vaal Dam again and found an unknown place called Van Der Walts totally by accident. They only really started accepting guests recently and we were some of the first. And as soon as we saw their perfect location we knew this would be a very different Vaal Dam experience.
Fishing
This venue has some of the deepest water possible at the Vaal Dam because the original river actually passes very close by the one corner. Have a look at the location and depth…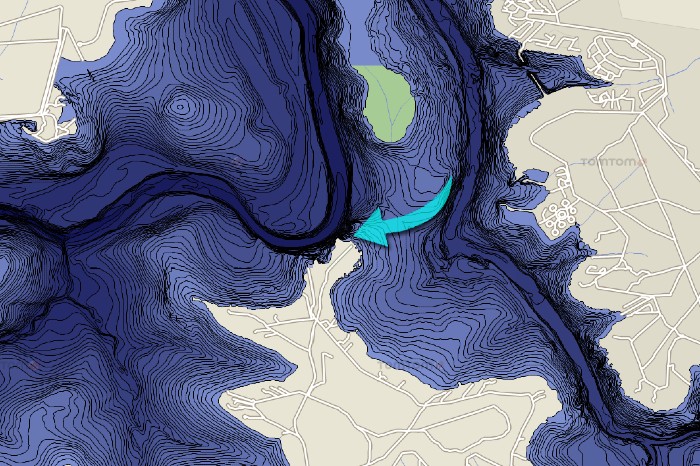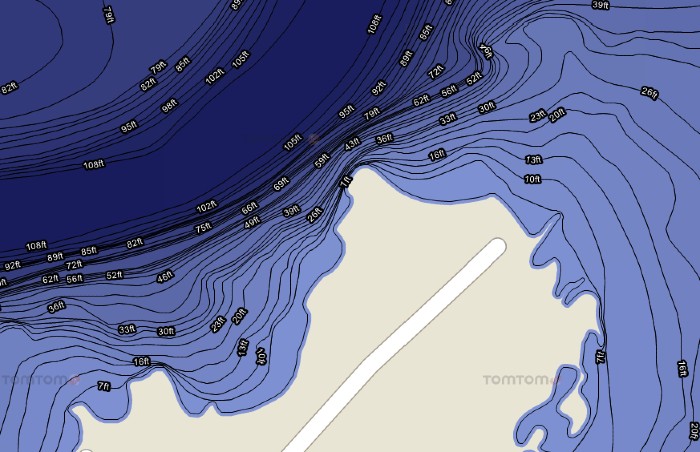 And on that corner they have a lapa that overlooks the water towards the island. The perfect spot to try and catch the fish of a lifetime.
We did try this initially with no luck, the water might even be a little bit too deep. But we're sure casting left or right of the very deep water would definitely yield some great results. We had to move to the second fishing area unfortunately because of the wind.
Here we were treated to the usual Vaal Dam action. Lots and lots of small fish, but unlike some other spots we managed to catch a decent fish every now and then which was great. We caught many carp, barbel and yellowfish but amazingly no mudfish this time.
All the usual flavours worked very well, including pink sweets, banana and garlic floaties. We also went old school by using brown bread with vanilla and\or curry powder which worked so well we decided to shoot a "floaties vs brown bread" video which was a lot of fun. Have a look a the link at the bottom of the page.
We also tried for bass among the submerged forest in the one section of the property. The trees offered great structure and it looked like the best bass habitat we've ever seen at the Vaal Dam but once again the bass managed to evade us.
Accommodation
The flatlet on offer is very comfortable with everything you might need. There are 3 bedrooms, 2 of which have their own bathrooms, and a loft complete with a pool table. There is also another outside bathroom with an open shower.
The property is located on a peninsula so you are completely surrounded by water on 3 sides. It's also part of an eco-estate so it's extremely safe and you also get to see small antelope walking around among the trees.
The fishing areas have lush green lawns right to the water and lots of shady trees.
Summary
We were pleasantly surprised by this great new venue catching lots of fish and enjoying the spectacular scenery in the comfortable surroundings. This place has kinda spoiled us in terms of Vaal Dam accommodation and we'll definitely be returning there soon.
(1 day)
carp x5 (medium)
carp x25 (small)
barbel x10 (small)
yellowfish x6 (small)
All the usual flavours, pink sweets, banana, garlic etc. etc. really worked well. Honestly if you want to catch small fish you could probably use any flavour.